Assistant Professor of Radiology, Harvard Medical School
Director of Training, Dissemination and Service, Neuroimaging Analysis Center (NAC)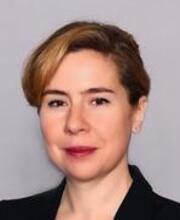 Sonia Pujol is an Assistant Professor of Radiology at Harvard Medical School, and a research scientist at the Surgical Planning Laboratory at the Brigham and Women's Hospital in Boston. Her research focuses on the development and validation of brain mapping technology for neurosurgical intervention which includes 3D exploration of white matter architecture using Diffusion MRI for brain tumor surgery planning and 3D computer-assisted neurovascular navigation for brain aneurysm intervention. 
Dr. Pujol is leading the DTI Tractography Challenge effort to evaluate the capabilities and limitations of DTI tractography methods for neurosurgical decision making. The project has brought together an international working group of 19 research teams in Diffusion MRI and 10 neurosurgeons in the form of DTI Challenge workshops at the Medical Image Computing and Computer Assisted Intervention (MICCAI) conference. 
Dr. Pujol is actively involved in teaching and technology transfer. She is the Director of Training of the National Alliance for Medical Image Computing (NA-MIC), and the Director of Outreach of the Neuroimage Analysis Center (NAC), two national research centers supported by the National Institutes of Health. Dr. Pujol also serves as a tutor in anatomy for first-year medical students in the Human Gross Anatomy curriculum at Harvard Medical School, and as course instructor in medical image analysis in the Harvard-MIT Division of Health Sciences and Technology (HST). Since joining Harvard University, Dr. Pujol has been teaching medical image analysis and delivering hands-on training workshops using 3D Slicer at major national universities, which include Stanford, MIT, UCLA, USC, Dartmouth, UNC and UCSF, and international venues in Europe, Japan and China. Over the past 10 years, she has trained more than 3,000 clinicians and scientists on topics that include 3D visualization, image segmentation, diffusion tensor imaging and computer-assisted surgery. 
Dr. Pujol graduated with a PhD in Biomedical Engineering and a post-graduate degree in Functional Materials and Nanophysics from the University Joseph Fourier, Grenoble, France. During her PhD thesis work, she developed a prototype navigation system for computer-assisted endovascular surgery of abdominal aortic aneurysm. Dr. Pujol holds a M.Sc. in Physics and a M.S.Eng in Computer Science and Applied Mathematics from the Ecole Nationale Supérieure de Physique de Grenoble and the Ecole Nationale Supérieure d'Informatique et de Mathématiques Appliquées de Grenoble, which she integrated after completing the French preparatory classes to national competitive exams at the lycee Pierre de Fermat in Toulouse, France.